The Social Feed widget allows you to pull in your department's Facebook or Twitter feed. The Instagram feed currently can only pull in the main Wake Forest account.

To create a new Social Feed widget, navigate here: WordPress sidebar > Widgets > Add New > Social Feed (from the dropdown). When creating a new widget, add your internal name for the widget that will appear in the content builder in your pages.
Choose your type from the Social Feed Channel Select dropdown.
Under Social Feed Link, paste in the URL of your account. It should be a clean URL without extra URL parameters. Example: https://twitter.com/WakeForest
NOT https://twitter.com/search?q=WakeForest&src=typd
Choose the number of posts that you'd like to pull into your widget. (If you are going to use a Twitter or Facebook widget in a full width block, then it will default to three posts side-by-side).
Check the box under Social Feed Show Photos to include images in your feed.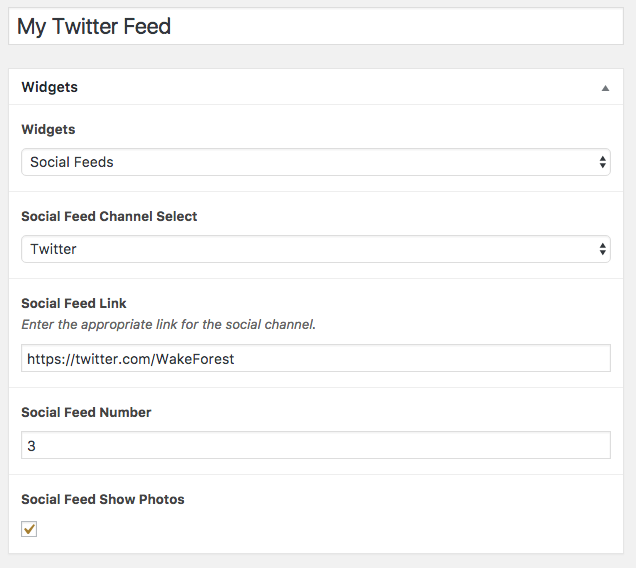 NOTE: Due to security limitations the Instagram feed is currently limited to displaying the main WFU account. An email notification will be sent when this is resolved.
Once your Social Feed editing is complete, you'll need to click Publish in the right WordPress menu. Your new widget will be available in the widget dropdown in the content builder in your pages. If you are making a change to the content of an existing widget, then click Update in the right WordPress menu and your changes will appear on all pages containing the widget without further steps.