The Sidebar Template was created to accommodate page designs that require multiple boxes on the right 1/3 of the page, independent of the content on the left 2/3. The regular Page Builder still works, but is limited to the remaining left 2/3 of the page. This also prevents the Full Screen Image and full width Slider from displaying more than 2/3 of the width of the page.
A sidebar can be added to any page by choosing the "Sidebar" template from the Template dropdown to the left of the Page Builder.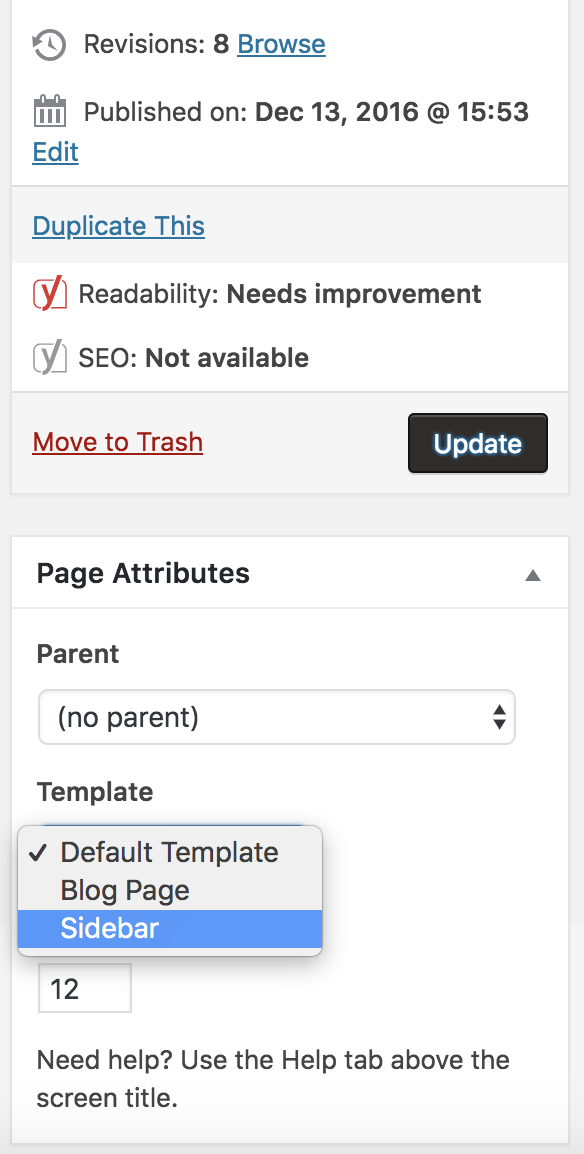 Once the Sidebar Template is selected, a new Sidebar Widgets interface will display below the main Page Builder.

You'll then be able to pull in as many of your pre-built Widgets (and only widgets) as you need by clicking Add Sidebar Widget and selecting them from the dropdown.

You'll then be able to add (+), remove (-) or reorder (click, hold and drag left side numbers) Widgets by hovering over the interface.

Once your content editing is complete, you'll need to click Publish or Save Draft in the right WordPress menu. If you are making a change to already published content, then click Update in the right WordPress menu and your changes will appear live on the page.
Sidebar Widget Example
Here is a sample of an additional Widget that can be added to the right side of your page. All sidebar widget blocks will be displayed in a gray highlight box. The content to the right is a full-width block in the Page Builder, but will only display as 2/3 of the page.