The Body Text box is still the most powerful and flexible content type. It's the standard text box that you are familiar with if you have used WordPress in the past. You can add text, insert images and embed forms.
To add a Body Text box to your page, first add a new row to your page by clicking Add Row at the bottom of the page building area, or by clicking the plus sign between rows when hovering over already created content.
Then in your block, choose the radio button for Content and choose "Body Text" from the Content Select dropdown.
Visual Editor
The Visual Editor allows you to easily create, edit and format your content in a view similar to that of a word processor.
This is the default editing mode, but if it does not appear to be enabled, you can select the Visual tab in the top right corner of the editor area, as shown below.

There are two (2) rows of editing icons in the visual editor. You can find out what any icon means or does by hovering over it with your mouse. A small tooltip will appear describing the icon and its purpose.
Row One
When initially opened, the Visual Editor will display a single row of icons:

Style – various formatting styles for text. Heading 2 and Heading 3 are useful for headings within a page. (Heading 1 should not be used because only one item on a page should have that formatting – the page title.)
Bold
Italic
Unordered list – bullet points:
Ordered list – numbered list:

Item 1
Item 2

Blockquote – a way of displaying quoted text:


This is an example of a Blockquote, it is also available as a content type.

Align Left
Align Center
Align Right
Insert/edit link – learn more
Remove link
Insert Read More tag (only supported on blog posts for excerpts)
Toggle fullscreen mode
Show/Hide Toolbar Toggle – enables Row Two of editing icons:
Row Two
To display the second row of icons, select the Toolbar Toggle icon (last button on the first row) 


Formats – you can choose additional custom formats from this theme; currently, there is a custom "Section Header" and a "Button" style for your links.
Strikethrough
Horizontal line
Select text color – change the text color (not recommended)
Paste as Plain Text – Toggle this on when copying and pasting directly from Word or Gmail; it strips out problematic hidden styling.
Clear formatting – alignment, color, bold, italics, any problematic styling
Insert special character
Decrease indent – move text further left
Increase indent – move text further right
Undo – undo your last action
Redo – redo your last action
Help – display some information about using the editor, as well as keyboard shortcuts
New Line Without Space Above (Single Space)
Hitting the Enter (Return) key will end the paragraph you are writing and start a new one. If you want to start a new line without creating a new paragraph, press the Shift key while hitting Enter.
Adding and Editing Links
To add a link in your text, you'll need to select the text you'd like to become the link and click the Insert Link Icon. A box will pop up, and you'll need to enter the full URL (with http://… etc.) and click the Apply button.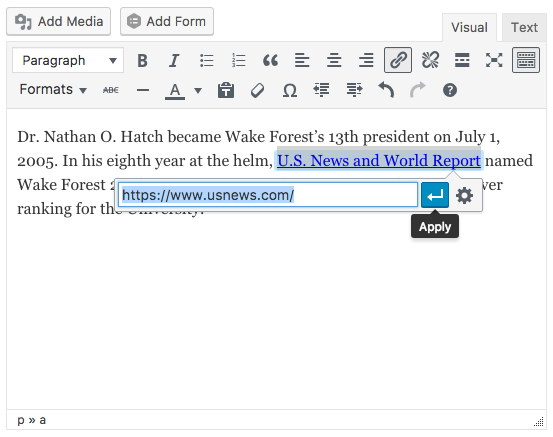 If you click the gear icon on the pop-up box, you'll have additional options. You can have the link open in a new tab or choose one of your internal pages without having to copy and paste the link.